Microvascular Imaging
Acoustic Angiography™ is a contrast enhanced imaging technique using microbubbles. Quickly and easily assess angiogenic tumor vessel networks.  Overlay co-registered image data from both traditional b-mode ultrasound and Acoustic Angiography mode for improved understanding of tumor functional status.



Enhance Your Publications
With the Vega 100 it is possible to longitudinally study tumor models in vivo for an enhanced understanding of angiogenic activity.
Noninvasively quantify blood vessels ≥150 μm in diameter and at depths up to 2.5 cm into tissue.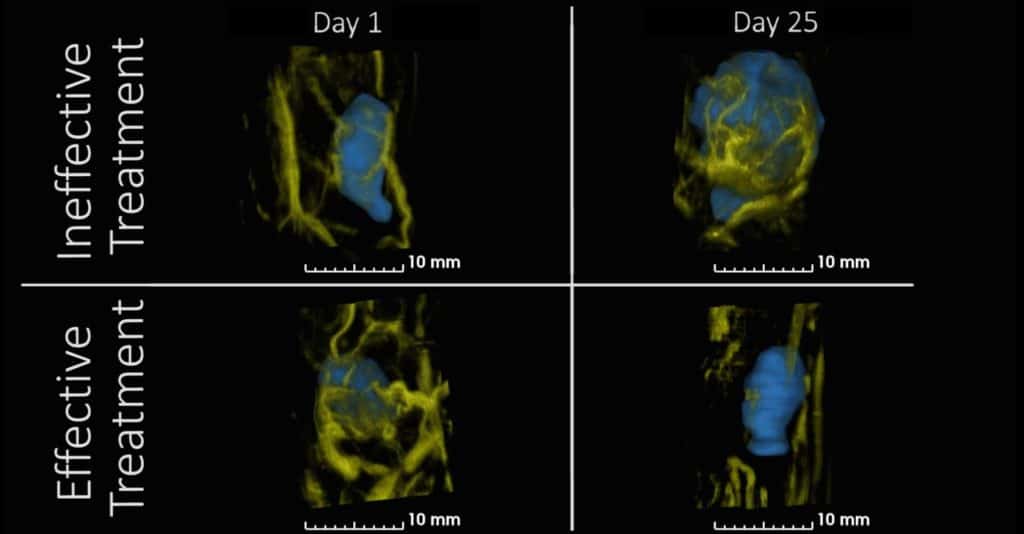 DF226 Transducer
The DF226 transducer is a dual frequency wobbler probe designed specifically for this type of imaging.

---
Publications
Gessner et al. Mapping microvasculature with acoustic angiography yields quantifiable differences between healthy and tumor-bearing tissue volumes in a rodent model. Radiology. 2012
Shelton et al. Quantification of Microvascular Tortuosity during Tumor Evolution Using Acoustic Angiography.  Ultrasound Med Biol. 2015
Rao et al. The 'Fingerprint' of Cancer Extends Beyond Solid Tumor Boundaries: Assessment With a Novel Ultrasound Imaging Approach. IEEE Trans Biomed Eng. 2016
A complete list of publications can be found here.
Additional Videos