Join us at an upcoming event to learn more about our products.
As a response to COVID-19, SonoVol has decided to postpone upcoming in-person events, including tradeshows and demos. Instead, SonoVol will be increasing our webinar schedule, scheduling virtual demos and a preparing a video series for potential customers. 


Join Dr. Ryan Gessner, CEO of SonoVol, as he takes you on a tour of the Vega ultrasound system, the worlds' first, robotic preclinical ultrasound scanner. Watch the demo now: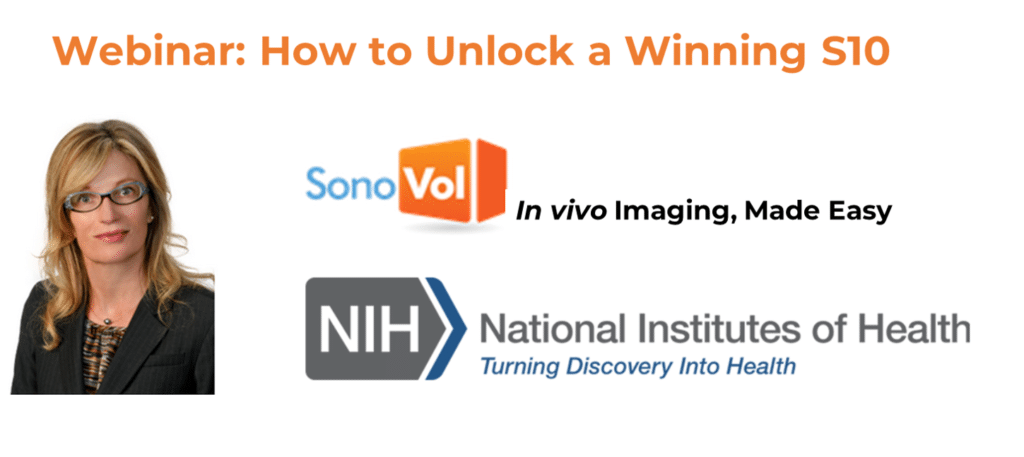 How to Unlock a Winning S10
Mar 26, 2020 12:00 PM (EST - US and Canada)
Interested in learning more about acquiring funding for shared instrumentation? Sign up for our webinar. Dr. Alexandra De Lille will present an overview of best practices she has picked up over 10 years of successful S10 grant writing. You'll improve your chances of getting one of these S10 grants for in vivo imaging equipment.


High Throughput Kidney Imaging
Oct 30, 2019 01:00 PM (EST - US and Canada)
With The Vega, rapid evaluation of both kidneys in 3D has never been easier. This webinar will introduce the Vega High Speed Imaging System for Kidney Imaging and will take approximately 30 minutes. 


Imaging Tumors Beyond Luciferase
Oct 31, 2019 01:00 PM (EST - US and Canada)
In this webinar we will describe and discuss the advantages of imaging non-labeled tumors with robotic ultrasound (without a hand-held probe). We will present a walk thru the workflow and exemplify a couple of data sets. Beyond measuring 3D tumor volume in a high throughput fashion, we will explore the added value of Acoustic Angiography to quantify tumor vascularity. Lastly, we will touch on imaging of the heart to assess potential drug cardiotoxicity.

AASLD - The Liver Meeting
November 8-12, 2019 | Boston, MA
Come join us at the annual AASLD – The Liver Meeting in Boston and see the Vega and Strata systems in person!

American Heart Association Scientific Sessions 2019
November 16-18, 2019 | Philadelphia, PA
Join us at the American Heart Association meeting in Philadelphia to see the Vega & Strata systems in person!